NIRVANA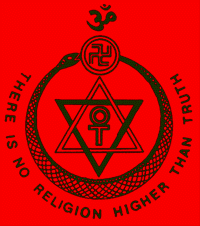 _______________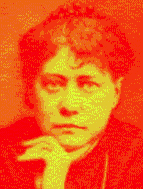 Nirmânakâya
(Sanskrit)
From H P Blavatsky's
Theosophical Glossary
Published 1892
Something entirely different in esoteric
philosophy from the popular meaning attached to it, and from the fancies of the Orientalists. Some
call the Nirmânakâya body "Nirvana with
remains" (Schlagintweit, etc.) on the supposition, probably, that it is a kind of Nirvânic condition during which consciousness and form are retained. Others say that it is one of the Trikâya
(three bodies), with the "power of assuming any form of appearance in order to propagate Buddhism" (Eitel's idea); again, that "it is the incarnate avatâra of a deity" (ibid.), and so on. Occultism, on the other hand, says:that
Nirmânakâya, although meaning literally a transformed "body", is a state.
The form is that of the adept or yogi who enters, or chooses, that post mortem condition in preference to the Dharmakâya or absolute Nirvânic state. He does this because the latter kâya separates him for ever from the world of form, conferring upon him a state of selfish bliss, in which no other living being can participate, the adept being thus precluded from the possibility of helping humanity, or even devas. As a Nirmânakâya, however, the man leaves behind him only his physical body, and retains every other "principle" save the Kamic—for he has crushed this out for ever from his nature, during life, and it can never resurrect in his post mortem state.
Thus, instead of going into selfish bliss, he chooses a life of self-sacrifice, an existence which ends only with the life-cycle, in order to be enabled to help mankind in an invisible yet most
effective manner. (See The Voice of the Silence, third treatise, "The Seven Portals".) Thus a Nirmânakâya is not, as popularly believed, the body "in which a Buddha or a Bodhisattva appears on earth", but verily one, who whether a
Chutuktu or a Khubilkhan, an adept or a yogi during life, has since become a member of that invisible Host which ever protects and watches over Humanity within Karmic limits. Mistaken often for a "Spirit", a Deva, God himself, &c., a
Nirmânakâya is ever a protecting, compassionate, verily a guardian angel, to him who becomes worthy of his help. Whatever objection may be brought forward against this doctrine; however much it is denied, because, forsooth, it has
never been hitherto made public in Europe and therefore since it is unknown to Orientalists, it must needs be "a myth of modern invention"—no one will be bold enough to say that this idea of helping suffering mankind at the price of one's
own almost interminable self-sacrifice, is not one of the grandest and noblest that was ever evolved from human brain.
__________
THEOSOPHY
NIRVANA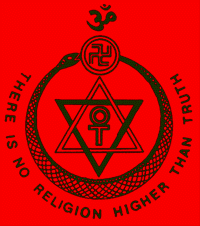 Find out more about Theosophy
with these Links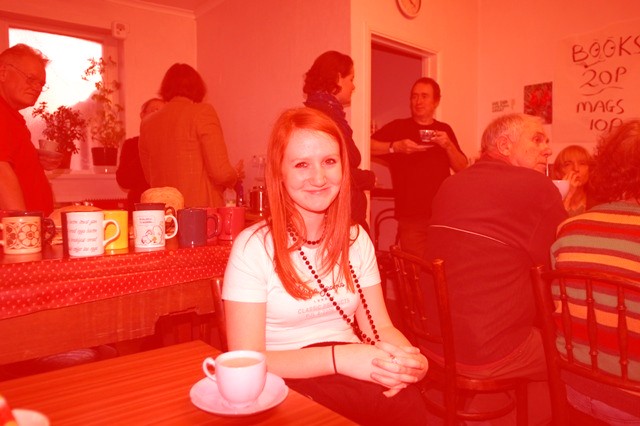 Cardiff Theosophical Society meetings are informal
and there's always a cup of tea afterwards
The Cardiff Theosophical Society Website
The National Wales Theosophy Website
Dave's Streetwise Theosophy Boards
The Theosophy Website that Welcomes Absolute Beginners
If you run a Theosophy Study Group, please feel free
to make use of the material on this Website
For everyone everywhere, not just in Wales
Theosophy Cardiff's Instant Guide
General pages about Wales, Welsh History
and The History of Theosophy in Wales
Independent Theosophy Blog
One liners and quick explanations
About aspects of Theosophy
H P Blavatsky is usually the only
Theosophist that most people have ever
heard of. Let's put that right
Lentil burgers, a thousand press ups before breakfast and
the daily 25 mile run may put it off for a while but death
seems to get most of us in the end. We are pleased to
present for your consideration, a definitive work on the
subject by a Student of Katherine Tingley entitled
An Independent Theosophical Republic
Links to Free Online Theosophy 
Study Resources; Courses, Writings, 
No Aardvarks were harmed in the
The Spiritual Home of Urban Theosophy
The Earth Base for Evolutionary Theosophy
Classic Theosophy Text
A Text Book of Theosophy By C W Leadbeater
What Theosophy Is  From the Absolute to Man
The Formation of a Solar System  The Evolution of Life
The Constitution of Man  After Death  Reincarnation
The Purpose of Life  The Planetary Chains
The Result of Theosophical Study
An Outstanding Introduction to Theosophy
By a student of Katherine Tingley
Elementary Theosophy  Who is the Man?  Body and Soul   
Body, Soul and Spirit  Reincarnation  Karma
Try these if you are looking for a
local Theosophy Group or Centre
UK Listing of Theosophical Groups