Stonehenge
Pages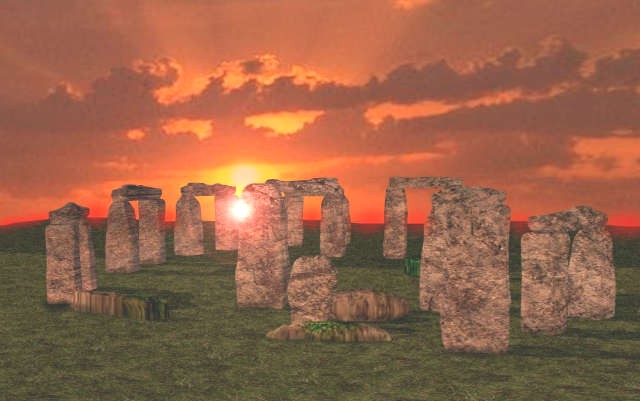 Stonehenge
A General Overview
Stonehenge is a prehistoric monument in Wiltshire England,  about  2miles west of Amesbury 8 miles north of Salisbury. One of the most famous sites in the world, Stonehenge is composed of earthworks surrounding a circular setting of large standing stones. It is at the centre of the most dense complex of Neolithic and Bronze Age monuments in England, including several hundred burial mounds.
Archaeologists had believed that the iconic stone monument was erected around 2500 BCE, as described in the chronology below. One recent theory, however, has suggested that the first stones were not erected until 2400-2200 BCE, whilst another suggests that bluestones may have been erected at the site as early as 3000 BCE. The surrounding circular earth bank and ditch, which constitute the earliest phase of the monument, have been dated to about 3100 BCE.
The site and its surroundings were added to the UNESCO's list of World Heritage Sites in 1986 in a co-listing with the nearby Avebury Standing Stones, Avebury, Wiltshire. It is a national legally protected Scheduled Ancient Monument. Stonehenge is owned by the Crown and managed by English Heritage, while the surrounding land is owned by the National Trust.
Archaeological evidence found by the Stonehenge Riverside Project in 2008 indicates that Stonehenge served as a burial ground from its earliest beginnings. The dating of cremated remains found on the site indicate burials from as early as 3000 BC, when the initial ditch and bank were first dug. Burials continued at Stonehenge for at least another 500 years.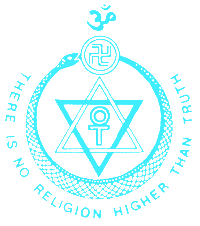 Find out more about
Theosophy with these links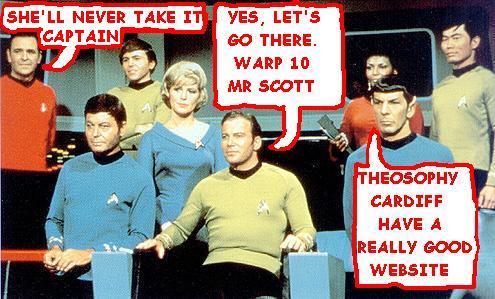 The Cardiff Theosophical Society Website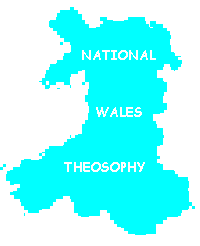 The National Wales Theosophy Website
If you run a Theosophy Group, please feel free
to use any of the material on this site
Theosophy Cardiff's Instant Guide
One liners and quick explanations
H P Blavatsky is usually the only
Theosophist that most people have ever
heard of. Let's put that right
The Voice of the Silence Website
An Independent Theosophical Republic
Links to Free Online Theosophy 
Study Resources; Courses, Writings, 
The main criteria for the inclusion of
links on this site is that they have some
relationship (however tenuous) to Theosophy
and are lightweight, amusing or entertaining.
Topics include Quantum Theory and Socks,
Dick Dastardly and Legendary Blues Singers.
A selection of articles on Reincarnation
Provided in response to the large 
number of enquiries we receive at 
Cardiff Theosophical Society on this subject
The Voice of the Silence Website
This is for everyone, you don't have to live
in Wales to make good use of this Website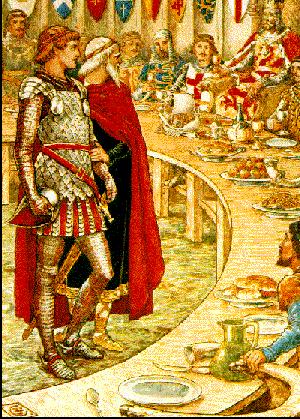 Theosophical Movement in Wales
High Drama & Worldwide Confusion
as Theosophy Cardiff Separates from the
Welsh Regional Association (formed 1993)
Theosophy Cardiff are in regular communication
with the Theosophical Society in Utah
No Aardvarks were harmed in the
The Spiritual Home of Urban Theosophy
The Earth Base for Evolutionary Theosophy
National Wales Centre for Theosophy
Blavatsky Wales Theosophy Group
______________________
_______________________
Theosophy Birmingham (England)
The Birmingham Annie Besant Lodge
Theosophy Cardiff has links with the
__________________
The Theosophy Cardiff
Glastonbury Pages
The Theosophy Cardiff Guide to
The Theosophy Cardiff Guide to
The Theosophy Cardiff Guide to
The Terraced Maze of Glastonbury Tor
Glastonbury and Joseph of Arimathea
The Grave of King Arthur & Guinevere
Views of Glastonbury High Street
The Theosophy Cardiff Guide to
__________________
Camberley, Surrey, England GU15 2LF
Concerns about the fate of the wildlife as
Tekels Park is to be Sold to a Developer
Concerns are raised about the fate of the 
wildlife as The Spiritual Retreat, 
Tekels Park in Camberley, Surrey, 
England is to be sold to a developer.
Tekels Park is a 50 acre woodland park, 
purchased for the Adyar Theosophical 
In addition to concern about the park, 
many are worried about the future 
of the Tekels Park Deer as they 
Confusion as the Theoversity moves out of 
Tekels Park to Southampton, Glastonbury & 
Chorley in Lancashire while the leadership claim
that the Theosophical Society will carry on using 
Tekels Park despite its sale to a developer
Anyone planning a "Spiritual" stay at the
Tekels Park Guest House should be aware of the sale.
Future of Tekels Park Badgers in Doubt
Party On! Tekels Park Theosophy NOT
Tekels Park & the Loch Ness Monster
A Satirical view of the sale of Tekels Park
in Camberley, Surrey to a developer
The Toff's Guide to the Sale of Tekels Park
What the men in top hats have to
say about the sale of Tekels Park
____________________
A B C D EFG H IJ KL M N OP QR S T UV WXYZ
Complete Theosophical Glossary in Plain Text Format
1.22MB
________________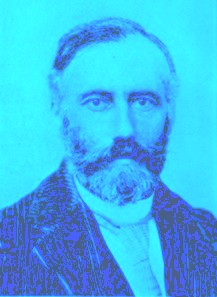 Preface    Theosophy and the Masters    General Principles
The Earth Chain    Body and Astral Body    Kama – Desire
Manas    Of Reincarnation    Reincarnation Continued
Karma    Kama Loka    Devachan    Cycles
Arguments Supporting Reincarnation
Differentiation Of Species Missing Links
Psychic Laws, Forces, and Phenomena
Psychic Phenomena and Spiritualism
Quick Explanations with Links to More Detailed Info
What is Theosophy ? Theosophy Defined (More Detail)
Three Fundamental Propositions  Key Concepts of Theosophy
Cosmogenesis  Anthropogenesis  Root Races  Karma
Ascended Masters  After Death States  Reincarnation
The Seven Principles of Man  Helena Petrovna Blavatsky
  Colonel Henry Steel Olcott William Quan Judge
The Start of the Theosophical Society
History of the Theosophical Society
Theosophical Society Presidents
History of the Theosophical Society in Wales
The Three Objectives of the Theosophical Society
Explanation of the Theosophical Society Emblem
Glossaries of Theosophical Terms
An Outstanding Introduction to Theosophy
By a student of Katherine Tingley
Elementary Theosophy Who is the Man?  Body and Soul   
Body, Soul and Spirit  Reincarnation  Karma
__________________________
An Outline of Theosophy
Charles Webster Leadbeater
Theosophy - What it is   How is it Known?
The Method of Observation   General Principles
The Three Great Truths   Advantage Gained from this Knowledge
The Deity   The Divine Scheme   The Constitution of Man
The True Man   Reincarnation   The Wider Outlook
Death   Man's Past and Future   Cause and Effect
Writings of Ernest Egerton Wood
Theosophy and the Number Seven
A selection of articles relating to the esoteric
significance of the Number 7 in Theosophy
Wales Theosophy Links Summary
Hey Look! Theosophy in Cardiff
Try these if you are looking for a
local Theosophy Group or Centre
UK Listing of Theosophical Groups
Tell us about your UK Theosophy Group
Theosophy Cardiff is a stand alone body within the Worldwide Theosophical Movement.
Within the British Isles, the Adyar Theosophical Society has Groups in;
Bangor*Basingstoke*Billericay*Birmingham*Blackburn*Bolton*Bournemouth
Bradford*Bristol*Camberley*Cardiff*Chester*Conwy*Coventry*Dundee*Edinburgh
Folkstone*Glasgow*Grimsby*Inverness*Isle of Man*Lancaster*Leeds*Leicester
Letchworth*London*Manchester*Merseyside*Middlesborough*Newcastle upon Tyne
North Devon*Northampton*Northern Ireland*Norwich*Nottingham
Perth*Republic of Ireland*Sidmouth*Southport*Sussex*Swansea*Torbay
Tunbridge Wells*Wallasey*Warrington*Wembley*Winchester*Worthing
Cardiff Theosophical Society in Wales
206 Newport Road, Cardiff, Wales, UK. CF24 -1DL
____________________
See how your group voted
Results & Voting Figures for the 
______________________
Your Own Theosophy Group Starts Here
A Guide to starting your own Theosophy Group
Link Exchange Web & Blog Directory of Top Sites Dmegs.com
SEO friendly web directory of top sites & blogs organized by topic
into categories and presented according to relevance of website.
http://www.findsitesnow.com<![if !vml]>
<![endif]>
AllWebScape Directory<![if !vml]>
<![endif]>
Human Edited Web Directory<![if !vml]>
<![endif]>
PPCBay Web Directory Network<![if !vml]>
<![endif]>
Maxxhits.com - FREE Search Engine Submission
Click here to submit your URL to over 8000 search engines,
directories and links pages Free. Boost your website's traffic fast!!!
Web Directory
SearchMonster.org - The Fastest Growing Web Directory.
Boost Your Website's Rankings and Traffic Now!
Search Engine Submission Service
_________________________________
Cardiff Theosophical Society in Wales
206 Newport Road, Cardiff, Wales, UK. CF24 -1DL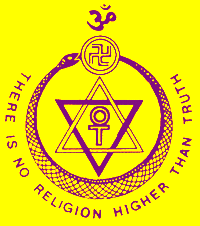 _____________________
The Founder of Modern Theosophy
______________________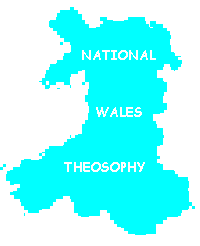 Cardiff, Wales, UK, CF24 – 1DL